Stage 1-66 mile road race of 6 laps around the Halwill Junction loop-Draggy
Stage 2-3 mile TT starting near the Holsworthy-Halwill A3072 turn lay by back to Halwill-Draggy, more uphill and nasty headwind
Stage 3-74 mile Road Race, 4 laps of a really lumpy 18 mile circuit, very lumpy with some steep nasty climbs, hitting them at around 40-50mph on the southern stretch.
Over the weekend of the 2nd/3rd of April I raced the Totnes Vire, the most prestigious race the South West region holds.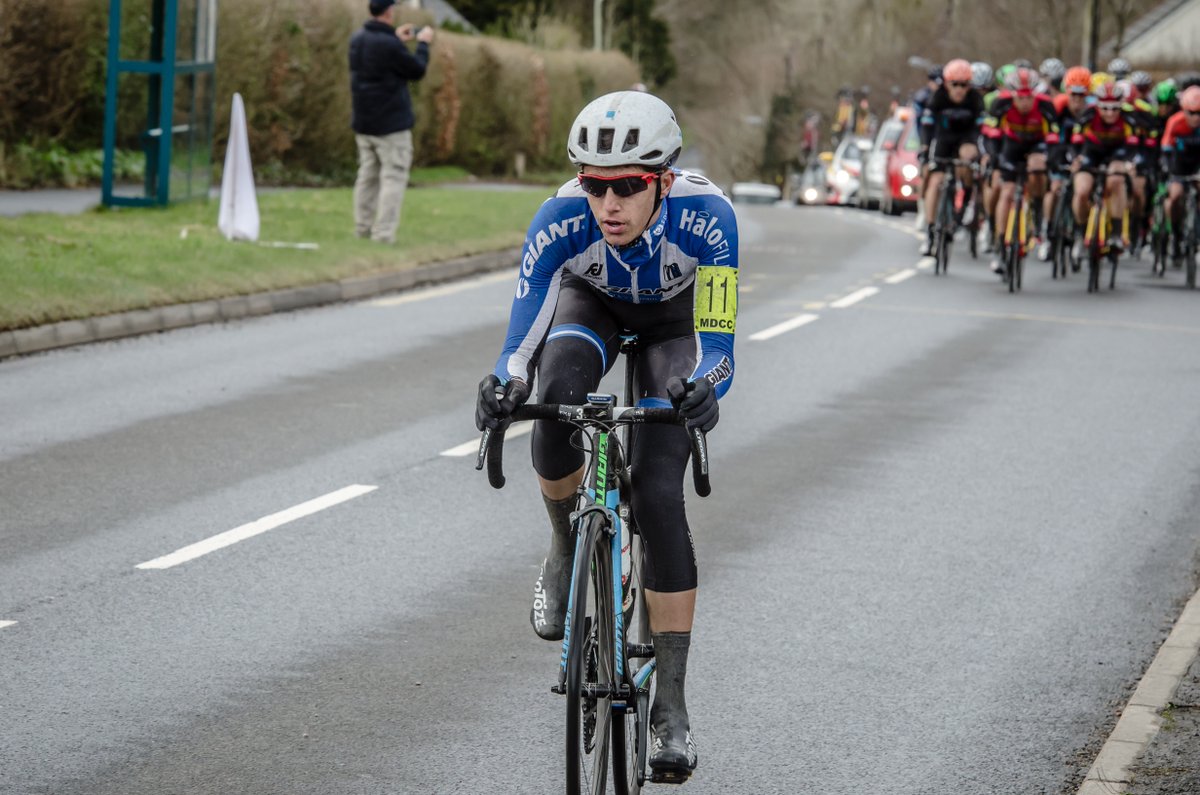 Above: Me off the front on stage 1
Stage one wasn't the most amazing stage for me, after an attack mid race and having riders from each team it wasn't any of the bigger teams (Pedal heaven, Raleigh or Madison genesis) responsibility to chase, and a few of us team less individuals new it was pointless to try it ourselves, we want to do the best we can do and not work to bring back a break like that, well I don't anyway…Before any of this I did bridge across to a move alone and the amount of time it took me to catch them (about 3 minutes for a 20 second gap) kind of proves that they were riding too slowly together to think about staying away and catching the break. So stage one meant getting into the top 10 really would have to be done in a sprint, as anything going off on the last lap would have been brought back quite easily. After a few crashes in the race (so I was told) around 20 riders had lost there chances here, others struggling with the pace in places left our group at only 20 riders come the end with 8 up the road. Eventually I took 18th.
Stage 2 was hard for everyone, with legs of course feeling a bit tired after the road stage it was going to be a real deep effort with lactic in the muscles already. Riding to a power meter helped a lot in this situation. Knowing the course well and being on Junior gearing meant I could rest for the 50 second descent as I wouldn't gain much time from sitting there spinning my legs off in the gearing. So I rode the first 3 mins to the downhill damn hard, with only a few kicks on the downhill I could recover and continue the effort as the road picked up again, in the final uphill 'sprint for the line' I knew I had done well as in the last 10 seconds I did start to fade very slightly but carried on kicking hard to the line, I was pleased coming away thinking I couldn't of pushed it any harder or ridden it smarter.
(Stage 3) Above: Looking even worse than usual! Mud and spit on my face, surprisingly I was full gas here!
Full pelt to the line stage 3.
Stage 3 (day 2) I knew could be made very hard, I of course knew Raleigh were going to try to keep the yellow jersey so they would be trying to set the pace and not letting anyone high up enough on GC to get away. I remember seeing guys going off up the road at 1/2 mile in which I thought was pretty silly but also very brave, holding off a team for 74 miles with only 3-5 of them on a tough circuit with pretty horrendous weather would for sure be a challenge. I made the decision to sit in for the first half of the race and see what happened on lap one and two on 'the climb' and it seemed Raleigh were working but not drilling it hard. 5 Miles away from the finish line (where we would have crossed for a lap to go) everyone came to a stop as we found out a chicken lorry had crashed and blocked the whole road, in the 20 minute wait I went and sat in a car after standing outside shivering for 10 minutes. Not long after the break were set of with 1 minute 50 seconds gap and then we also rolled on, cafe legs were there for a few seconds for sure. so on the 3rd time up the climb at 55 miles in I decided id go solo and ride to a power i knew i could hold for around 45 minutes, after all we had raced the day before and your not exactly fully fresh after 55 miles…I put the attack in over the Appledore climb and got a small gap, taking the corner through Okehamton really fast i kept the power down all the way up to the top of the hill over the line then sat at that power. Heading through Sticklepath was my only rest so i built my speed up with a kick on the way down and caught the car ahead of me. Anyway 10 minutes later as I approached Whiddon down I had managed to get across the 1 minute 50 gap, as i caught them i knew they were so tired from being in the break for so long and the gap must of only been around 1 minute when I caught them. After an attack from 2 Madison Genesis riders from what I heard they went hard on the downhill-uphill corner section and came flying across to us, not long after a split of 25 got to us as well. Up the next climb after a quick downhill was an attack so I followed it and the group split into two and then there were 13 of us. After that group had also had a small split the yellow was chasing way to hard and when it came to the next climb where 6 of us smashed it across to the other 6 the yellow just didn't have the legs to keep trying to defend and fell back. So it came to the final climb where there was one attack but it got reeled back in, I knew attacking them wouldn't work so I'd have to place as high as possible in the sprint which sadly I only got 8th out of 11, however after a 25 minute solo effort and being a junior rider with not so much power as a fully grown man, especially with good kicks on them, I feel I did well, the winner of the final stage was a world champ at the Madison world champs.
Overall I had-
Stage 1- 18th
Stage 2- 15th
Stage 3- 8th
Overall GC- 10th
Thanks to Epic Cycle coaching
Halo Films
My Parents
Pedal Potential
Balgores
Giant Uk
FD works
Stealth secret training
Thanks.